Fishing, Casting, and Other Stuff
First Post of 2013
Christmas Wish List Ideas
Thanksgiving in St Louis
Garrison Brothers Distillery
Fall trip to the Llano
Devils River Trip Summary
Devils River trip day three
Devils River trip continues
"Don't become someone else's problem!"
Devils River trip continued
We completed the first day covering about eight river miles. There had been some rain in the area earlier in the week and the normally "crystal clear" river was off color. Fishing was slow the first day. We set up camp on an island in the middle of the river using GPS coordinates that I had gotten from Gerald Bailey. Local land owners are notoriously aggressive relative to their private property (Can't fault the landowners; they value their privacy and their land) so camping locations are limited. If you miss the river-mile seven spot you have to try to make do with some large rocks in the river near mile nine or paddle another eight to nine miles to reach the State Natural Area.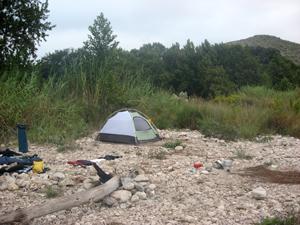 Not paying attention to the details of the coordinates we first set up camp on the edge of the island, really a bar of gravel and rocks in the river. That spot was damp, muddy, and not very hospitable. A little scratching around and we found the real site thirty yards from the water. Four to five feet above the current river level, dry, leveled off by previous users, fire ring, and a bit of wood to get a fire started. Set up camp, warmed up and enjoyed one of Janice's prepared meals, and watched the fire and the stars for some time.
"I'm just the driver."
Herve and I had discussed a Devils River fishing trip for some time and had finally put it in place. Arrangements complete, we left Houston on a Monday evening for the drive out to Val Verde County. We arrived at Marlene Walker's Who Cares B&B, located at the head of the Blue Sage Subdivision at about 9.30 that night. The B&B is about 70 miles South of Sonora and 50 miles north of Del Rio; the definition of remote. The plan was to be up at six, breakfast, load up the truck, depart around seven, and be driven 75 miles up to Bakers Crossing, an intersection of the Devils and Highway 163 for the start of a three day trip. Herve and I had the gear ready so after breakfast we met our driver Travis Walker and loaded our gear into the truck.
Travis had the canoe on the rack and we were off. South to Del Rio, west past Amistad, then north on 163 to the put-in-point. An hour and forty-five minutes and we learned quite a bit about Travis. Runs trail rides for an aunt in Big Bend during the spring and when it gets too hot moves with the horses to work the trails out of Taos. They in the fall back to Texas to help out at the B&B. Independent type with a set of goals that leave little chance for disappointment.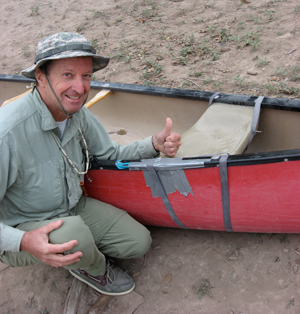 We arrived at Bakers Crossing at about 9.00, unloaded our gear, and took the canoe off the trailer. Surprised by the condition of the canoe - broken gunnel, back seat detached, front seat loose - we levelled a few choice words at our new friend Travis when he responded, both hands up palms toward us, with "I'm just the driver".
The alternatives were to send Travis back to see if there was another canoe in the stable that was in better shape. A four hour round trip that didn't guarantee better gear but certainly guaranteed a problem reaching the first night's camping site or to work with what we had. Duct tape, a couple of straps from the canoe trailer, a cinder block and some scrap wood that were lying around, about half an hour, and we had something serviceable. A few more choice words about our outfitter and Travis reiterated "I'm just the driver". On that note we started our 30 mile trip at about 9.30. More later.....
The Trout Also Rises
New Mexico Trip Post Ten - Entomology
New Mexico Trip Post Nine - Embudo and beer
New Mexico Trip Post Eight - Red River near Questas and Embudo
New Mexico Trip Post Seven - Red River
New Mexico Trip Post Six - "It doesn't take long"
New Mexico Trip Post Five - Red River Near Questas
New Mexico Trip Post Five - Pecos Upstream of Terrero
New Mexico Trip Post Four - More on Valles Caldera
New Mexico Trip Post Three- Valles Caldera
New Mexico Trip Post Two - Pecos
New Mexico Trip - Post One
TP&WD Hill Country Fishing Survey
GoPro Hero2
Customer Comment
Beginner's Tips
Dan's First Texas Bass
Shucks
Time to Go
Damsel Nymphs
Purple Martins
Mark's new Ro
Bois Brule River
Winneboujou Club
lat=46.70739 lon=-90.93490
Brookies on Pikes Creek
Big Bay Lagoon
Wisconsin
Rocks
Where are all the Rio Grande perch?
Worth the Paddle
What a Day
Sunfish Spectacular
C-TUG
Macauley Lord Podcast
TFF Casting Classes Continued
TFF Casting Classes
Mark's Miss Prissy
Fly Fish Texas
No More Miss Prissys